Keynote Speaker
LCA is pleased to announce that our 2023 Keynote speaker is Dr. Dan Reed.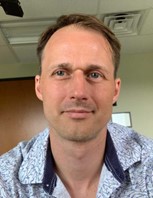 Dan Reed, PhD, LPC specializes in embodied experiential ways of working and being in relationship. He is particularly interested in empowering therapists and encouraging them to wonder about ways ofbeing that best support themselves and the communities/populations they serve. His research, teaching and writing explores how internal family systems (IFS) can inform ongoing development for psychotherapists and psychotherapist educators. Currently, Dan is an trainer for the IFS institute (IFS-I), an IFS-I approved clinical consultant, and certified IFS therapist. He operates a private practice in San Antonio, Texas offering support for leaders, consultation for IFS therapists and IFS consultants, and counseling.
Dr. Reed will share with us the keynote presentation on Sunday and a content session later in the conference.
During the keynote presentation Dr, Reed's presentation share the conference theme "Honor. Heal. Help."with us.
Dan Reed, PhD, LPC of San Antonio, TX is a white-bodied, hetero-cis-male, who trains and supports psychotherapists in learning and developing from an internal family systems (IFS) perspective. Like some reading this, he is also a counselor and counselor educator. As we move into the Louisiana Counseling Association (LCA) conference together, Dan is going to encourage you in Honoring various seen and unseen parts of you, getting even more acquainted with yourself(ves), the communities you serve, and your peers within your LCA community. As we connect with each other and Honor all that is you, Dan will invite you to wonder about utilizing IFS to support you in getting into deeper relationship with various aspects of yourself. He will help you become curious about the Healing that comes through developing inner-relationship and its impact on your outer-relationships. Finally, Dan will invite you to Help parts of you stay in relationship with you as you navigate this conference and then carry your discoveries back into your personal and professional communities.
Later in the conference, Dr. Reed will share with participants "Meaningfully Connecting with the Internal Family Systems Model of Therapy to Serve your Self and your Population: Honoring your people, Helping parts of yourself, Healing inner-relationships, and sharing with your community."
Dr. Reed leads internal family systems (IFS) trainings nationally for the IFS Institute. Building on the introduction to wondering about the usefulness of developing deeper inner relationships with one's self from the conference keynote, Dan will lead all of us participating in this breakout into a process of wondering if and how such inner exploring might be useful for the particular people and communities you serve. Through solo-reflection, learning a process to slow down and interact with parts of yourself, and reflecting in small groups, you'll begin to focus on what kinds of adaptations and modifications you might create to more effectively invite your people into meaningful changes within the lived experience(s) they find themselves in.