Leadership and Mentoring Institute
Calling all prospective mentees!
Have you ever thought about getting involved in the leadership of LCA or any of its divisions? Are you a graduate student or new professional looking for a mentor to help with your professional development? Well, the Leadership Development and Mentoring Institute (LDMI) invites those who would like to be considered for the second cohort to apply on line. The LDMI connects new counseling professionals and Counselor Educators with less than 5 years of experience as well as graduate counseling students to mentors who will work together over the course of a year to collaborate on anything the mentee finds valuable to their professional development. This year, the Institute will take place on Saturday, Oct 6th , which is the date of Preconference. Those chosen for the LDMI will be paired with a mentor during the institute and have an opportunity to work with them over the subsequent 12 months. As part of the LDMI, mentees will share what they worked on at the 2019 LCA conference in New Orleans! Below is the link to the application for those who would like to be considered for the second cohort of mentees. The deadline to apply is August 31, 2018.
https://www.surveymonkey.com/r/DQW2N2V
If you have any questions about the LDMI, please contact Dr. Christine Ebrahim at cebrahim@loyno.edu
Inaugural Leadership Development and Mentoring Institute 2/2018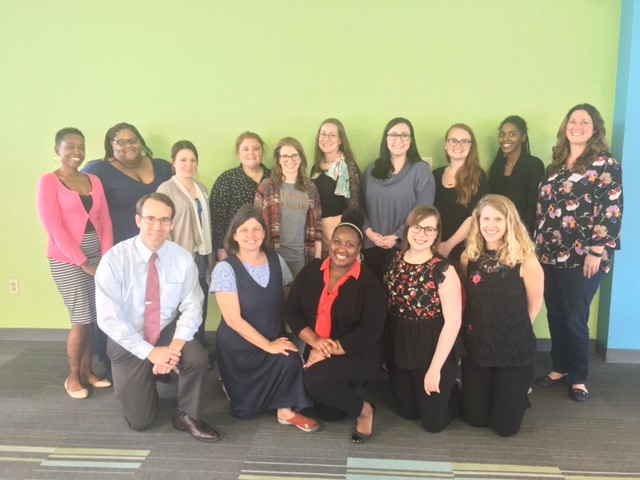 Back row, l to r: Mashezia Vincent, Dymphna Davis, Tina Pazos, Eleanor McAuliffe, Nina Stewart, Alexis Mueller, Kaitlin Short, Jennifer Chamberlain, LaSonja Eleby, and Shannon Smith; First row, l-r: Sean Brite, Melissa Gemeinhardt, Princess Lanclos, Katharine Blum, and Anna Gray Baker.